Database of Certified Shamanic Practitioners® and current 4th & 5th year students in supervised practice
This is a complete list of our certified practitioners and students in supervised practice. If someone is not on this list, we either did not train them or they did not complete their education. We unfortunately, cannot stand behind their work.
If you are looking for a referral to a shamanic practitioner or a professional who has integrated shamanistic work into their existing practice, please visit our directories.
Explanations
Status key
Active

certified

Candidate

completed education, awaiting exam

Student

in their 4th or 5th year of study to become a shamanic practitioner or working toward integrating shamanistic work into their existing practice

Expired

the certification has lapsed, the practitioner is no longer certified through our organization

Removed

the practitioner has been removed from our register due to ethical lapses
Certificate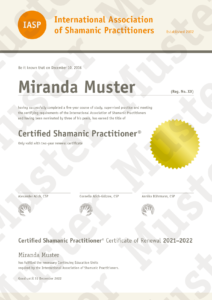 This certification certificate is issued to all of our CSPs along with a renewal certificate that is issued every two years.